This page was last updated on: October 11, 2009
Copyright 2009,

Collinsville Publishing Co.

Avon Football Online

Avon, Connecticut



Avon 37, Cromwell 31

At Avon

Cromwell (3-1)   7  10   0  14 – 31

Avon (4-0)

7   0  10  21 – 37
First quarter

C: Bobby Jordan 1 run (Kevin Molde kick), 5:35

A: Ross McDonald 2 run (Austin Kick kick), 1:26

Second quarter

C: Jordan 3 run (Molde kick), 8:52

C: Molde 23 FG, 0:02

Third quarter

A: Tyler D'Onofrio 56 pass from McDonald (Kick kick), 9:56

A: Kick 22 FG, 4:54

Fourth quarter

C: Carlton Forbes 2 run (Molde kick), 10:56

A: McDonald 25 run (Kick kick), 5:57

C: Forbes 6 run (Molde kick), 1:15

A: Vince Savarese 64 pass from Andrew Livingstone (Kick kick), 0:56

A: McDonald 57 run (no kick attempted), 0:00

Individual statistics

RUSHING: Avon – Ross McDonald 26-205, Andrew Livingstone 1-3, Vince Savarese 1-1, Colin Pavano 2-4; Cromwell – Carlton Forbes 21-105, Bobby Jordan 13-87, Kelvin Winston 10-60, Brett Director 1-21

PASSING: Avon – Andrew Livingstone 4-11-1, 134; Ross McDonald 1-2-0, 56; Cromwell – Bobby Jordan 11-18-1, 142

RECEIVING: Avon – Tyler D'Onofrio 4-127, Vince Savarese 1-64; Cromwell – Brett Director 6-98, Carlton Forbes 1-7, Josiah Simons 2-15, Kelvin Winston 1-8, Brandon Hinds 1-14

Of note: The two teams played for the first time a year ago in the season opening contest with the Panthers winning, 21-0. ... This is the sixth time that Avon has faced a defending state champion.  They were 0-5 in the previous 5 games.  ... Cromwell is ranked No. 9 in the New Haven Register and Connecticut Sports Writers Alliance poll and No. 10 in the New London Day poll. ... Avon is 27th in the CSWA poll.

By GERRY deSIMAS, JR.

Avon Football Online

AVON, Oct. 10 – They've been playing football for 50 years at Avon High and there probably haven't been many games like this.

Facing defending Class S champion Cromwell, the Falcons scored two touchdowns in the final 1:15 including the game-winning score, a 57-yard run from Ross McDonald with no time left in regulation to earn a thrilling 37-31 victory. Cromwell (3-1) is ranked No. 9 in the state by the Connecticut Sports Writers Alliance and New Haven Register poll.

The Falcons (4-0) never led until the final gun. But they tied the game four times, including on a 64-yard touchdown pass to Vince Savarese from QB Andrew Livingstone with 56 seconds left in the fourth quarter. McDonald finished with 208 yards and 3 TDs on 26 carries. He also threw a 56-yard TD pass to Tyler D'Onofrio in the third quarter.

"Cromwell didn't make errors. We made plays," Avon coach Brett Quinion said. "The kids decided this game."

It was an emotional game on both sides as the two squads stood toe to toe and took shots at each other right up the final second. Neither wilted. And when it was over, the Falcons and their fans celebrated in the end zone. "Everyone played great and came together like I knew they would," said senior left guard Matt Graff, who couldn't stop smiling.

Avon, which had never defeated a sitting state champion, marched 74 yards in about five minutes to tie the game at 24-24 on McDonald's 25-yard touchdown run with 5:57 left in the fourth quarter. McDonald broke through the line and streaked into the open and into the end zone.

"The offensive line did a great job the whole game," Livingstone said. "They gave him the holes to start." Graff added, "You can't tackle Ross in the open field. He is unbelievable."

Cromwell responded with an 11-play, 70-yard drive of its own that culminated with Carlton Forbes (21-105) scoring from the six-yard line with just 1:15 left in regulation for a 31-24 lead.

McDonald returned the Panther kickoff 18 yards to the Avon 36-yard line. On the next play, Livingstone found Vince Savarese open down the sideline. Savarese eluded a tackle and sped into the open and scored on a 64-yard TD reception with 56 seconds left. Austin Kick, who made all four extra points he attempted, smoothly tied the game at 31-31.

Cromwell got the ball back and drove to the Avon 48-yard line with 27 seconds left. On fourth down and four, Forbes was hit for a two-yard loss and the Falcons took over with 18 seconds left. Livingstone threw an interception and on the next play, Cromwell QB Bobby Jordan threw an interception when Avon's Rhys Stockwell stepped in front of Cromwell receiver Chris Edelbaum.

So, with three seconds left, Avon had one last play to run before an overtime period. McDonald found a hole on the left side and broke a few tackle attempts as he sailed down the far sideline to the delight of the Falcons and their fans.

"He broke three tackles and took it to the house," Livingstone said. "He outran the whole defense on that play. The offensive line did a good job to open it up and he did the rest."

Avon leaned heavily on McDonald. He carried 26 times for  208 yards and played on defense as well. He took several direct snaps with Livingstone lined up as a wide receiver. There were just four other rushes by other Avon players.

"He's done the work in the weight room and he's strong and fast," Quinion said. "He's hungry and he wants it." Avon hoped to run the ball on the Panthers. "We thought we could run the ball between the tackles and we did," Quinion said.

Defensively, Avon struggled to slow down Cromwell's option offense. But they did enough. Cromwell scored on three of its first four possessions but it took them at least 10 plays on every drive.

On the opening drive, Cromwell marched 76 yards on 14 plays to take a 7-0 lead but Avon responded with an eight-play drive of its own with McDonald rushing seven times including a 2-yard TD run to tie the game. Cromwell kicker Kevin Molde hit a 23-yard field goal at the end of the second quarter to give the Panthers a 17-7 halftime lead.

In the third quarter, Avon scored on its first drive when McDonald rolled out and found Tyler D'Onofrio in the middle of the field. D'Onofrio wheeled away from the defender and raced 56 yards for a touchdown to cut the lead to three, 17-14. After forcing a Cromwell fumble, the Falcons tied the game at 17-17 on a 22-yard field goal from Kick. The key play in the scoring drive was a 48-yard pass from Livingstone to D'Onofrio (4-127 receiving) that he took to the two-yard line before getting tackled.

NOTES: Trailing by seven late in fourth quarter, Avon converted on a key fourth down and five yards on the Cromwell 41-yard line with 7:33 left in the game. Livingstone found D'Onofrio on a quick eight-yard reception to keep the drive alive. Three plays later, McDonald scored to tie the game at 24-24.

The offensive line consisted of junior Clint Wallburg at left tackle, senior Matt Graff at left guard, senior Chris Rogers at center, senior Sonny Portelance at right guard and senior Mike Burton at right tackle. "We're not the biggest guys out there but they work so hard," Quinion said.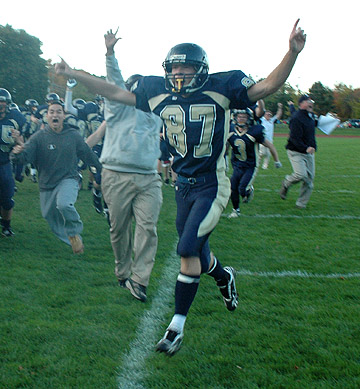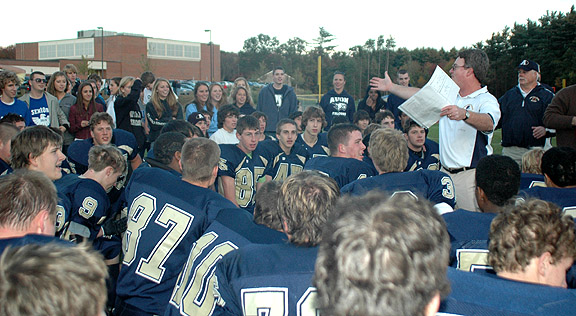 Students from the high school join in the Falcons' post-game huddle on the field following Avon's thrilling 37-31 win over Cromwell. "The fans were a wonderful 12th man for us," Avon coach Brett Quinion said.

Falcons make the plays in last-minute win over Cromwell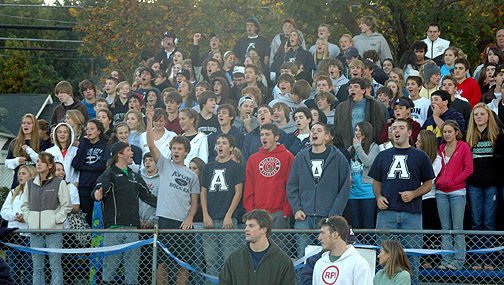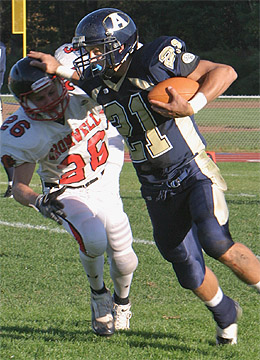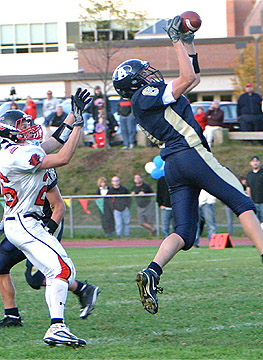 n Top photo, Ross McDonald uses a stiff arm to get away from a Cromwell defender. Middle photo, Rhys Stockwell intercepts a pass with three seconds left in regulation. Bottom photo, senior Austin Kick and teammates celebrate after McDonald's 57-yard TD run at the end of the fourth quarter.

Photography by Gerry deSimas, Jr., except where indicated

n Avon teammates and classmates celebrate with Ross McDonald following the victory.