This page was last updated on: December 6, 2009
2009 Class M semifinals: Avon vs. Berlin

Copyright 2009,

Collinsville Publishing Co.


Avon Football Online

Avon, Connecticut




Berlin 35, Avon 28

At Bristol

Berlin (9-2)

14 21 0   0 – 35
Avon (10-1)

  0 14 0 14 – 28
First quarter

B: Dan Hackett 1 run (Devin Silverman kick), 6:44

B: Max DeLorenzo 42 run (Silverman kick), 4:38

Second quarter

B: Zach Parsons 50 fumble return (Silverman kick), 10:40

B: DeLorenzo 8 pass from Hackett (Silverman kick), 6:02

A: Ross McDonald 1 run (Austin Kick kick), 1:52

B: DeLorenzo 67 run (Silverman kick), 1:43

A: McDonald 66 run (Kick kick), 1:09

Fourth quarter

A: McDonald 3 run (Kick kick), 10:35

A: McDonald 2 run (Kick kick), 3:57

Individual statistics

RUSHING: Avon – Ross McDonald 24-149, Colin Pavano 4-8, Andrew Livingstone 4-13, Vince Savarese 1-6, Berlin – Max DeLorenzo 36-265, Dan Hackett 6-minus 12, Matt Padykula 2-7, David Campagna 5-10

PASSING: Avon – Andrew Livingstone 11-19-2, 113, Ross McDonald 0-2; Berlin – Dan Hackett 3-4-0, 27

RECEIVING: Avon – Vince Savarese 5-41, Tyler D'Onofrio 2-35, Ross McDonald 2-24, Mick Hailu 1-4, David Doebler 1-9; Berlin --- Brian Malloy 1-2, Max DeLorenzo 2-25

No. 2 Avon (10-0) vs.

No. 3 Berlin (8-2)

When: Tuesday, Dec. 1

Where: At Muzzy Field, Bristol

When: 6:30 p.m.

Series: Berlin leads, 26-11-1

Of note: The game is at Muzzy Field because Avon's field doesn't meet CIAC requirements to hold a playoff game, notably lights and a press box. ... Berlin is 1-12 in CIAC playoff games including an 0-5 record in the finals and 1-7 in the semifinals (since 1995)

About Avon

Coach: Brett Quinion, 7th year (42-30)

Conference: Pequot Conference, Uncas Division

Record: 10-0, 8-0 Pequot Uncas champions

About Berlin

Coach: John Capodice, 6th year (49-17)

Conference: Central Connecticut Conference, Division III

Record: 8-2, 7-0 CCC Division III champions

Top players:

2009 results

Points: 300 Pts. allowed 177

Sept. 19: Wethersfield, W 34-7

Sept. 25: NW Cath., W 21-15

Oct. 2: Weaver, W 43-0

Oct. 9: Tolland, W 48-13

Oct. 16: Simsbury, L 14-28

Oct. 23: Rocky Hill, W 20-0

Oct. 30: Bris. Eastern, W 21-3

Nov. 6: Platt, W 36-14

Nov. 13: Fermi, W 48-0

Nov. 25: New Britain, L 13-27

Regular season stats

'09 Berlin leaders

RUSHING          C-Yards  TDs

44 Delorenzo   184-1536  21

5 Tavarozzi          90-577    8

20 Campagna    43-262   6

PASSING   C-Att-Int   Yds    TD

12 Hackett   54-80-5  696   5

RECEIVING         C-Yards  TDs

7 Malloy              23-312     1

44 Delorenzo      9-149     0

20 Campagna    7-134     1

18 Powers           7-69       3

SCORING     TD  2pt  1pt  FG Pts

44 Delorenzo  21  0   0   0  130

5 Tavarozzi       8    0   0   0  50*

20 Campagna  7   0   0   0   42

26 Silverman   0    0   0  1 26**

*Includes safety

**Includes 23 PATs

DEFENSE

TACKLES: 18 Powers 76, 17 Connolly 61, 9 Parsons 61, 5 Tavarozzi 37, 20, Campagna 35

INTERCEPTIONS (15):

11 Undercuffler 9-26, 4 Roche 2-14, 9 Parsons 2-50

SACKS (13): 5 Tavarozzi 4-40, 17 Connolly 4-25

FUMBLE REC: 7

Series history: The two schools have played 38 games as members of the Northwest Conference and Nutmeg League. They haven't faced each other since 2003. ... Berlin has won 18 straight from 1984 to 2003. ...  Avon went 9-2-1 in the first 12 games of the series from 1964-75.

Closest game: 2 points, Berlin 8, Avon 6 (1965)

Biggest Avon win: 35, Avon 41, Berlin 6 (1967)

Biggest Berlin win: 48, Berlin 55, Avon 7 (2000)

Last tie: 1968, 6-6

Last Avon shutout:  1973, Avon 18-0

Last Berlin shutout: 2002, Berlin 46-0

n Berlin will have to contend with Avon's Ross McDonald (21) who has rushed for a school-record 1,825 yards this fall. Above, he shakes off a tackle by Canton's Nick Grabowski.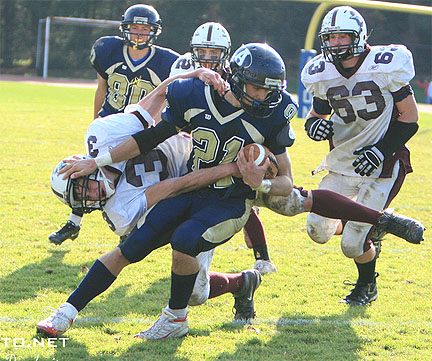 Old foes face off in Class M semifinal

By GERRY deSIMAS, JR.

Avon Football Online

AVON, Nov. 28 – An old rivalry will be reborn in Tuesday's Class M semifinals when undefeated Avon (10-0) hosts Berlin (8-2) at Muzzy Field in Bristol at 6:30 p.m. The two teams were members of the Northwest Conference and Nutmeg Conference for years, playing 38 games.

The two teams haven't faced each other since 2003. This time, a berth in the Class M championship game will be on the line. The winner will face either New London or Bethel on Saturday, Dec. 5.

Avon is making its second straight CIAC playoff appearance. A year ago, they lost to eventual champion Brookfield in the semifinals. This year, the Falcons posted the second undefeated season in school history (10-0), captured their third straight Pequot Uncas Division championship and earned the No. 2 seed in the Class M playoffs.

The Falcons will be facing Berlin, which went 8-2 and won the Central Connecticut Conference Division III title in its first year in the league. Max Delorenzo is the workhorse for the Redcoats, running for a school-record 1,536 yards and 21 touchdowns this fall.

"Berlin is a very, very good team," Avon coach Brett Quinion said. "They have more team speed than Cromwell and they're stronger. This will be an extreme challenge."

In its most noteworthy contest of the season, Avon beat defending Class S champion Cromwell, 37-31 by scoring two touchdowns in the final 1:15 of the game, including a 56-yard TD run by Ross McDonald as time expired.

McDonald has rushed for a school record 1,825 yards and 31 touchdowns but the strength of the Falcons success this year has been balance in effort across the field.

"I believe that we as a team are better than the sum of all of our players," Quinion said. "I keep hearing every week how we have this weakness or that weakness and how we are not that good.  This team leans on each other and is a team in every sense of the word.  Every week, someone different leads us."

By GERRY deSIMAS, JR.

Avon Football Online

BRISTOL, Dec. 1 –  In the span of a few minutes, it all slipped away.

The Berlin High football team had taken an early 14-point lead over Avon in Tuesday's Class M semifinal with touchdowns on its first two drives, including a long 42-yard scamper down the far sideline from junior back Max DeLorenzo.

But after a rough first quarter, the Falcons were finally moving and the excitement was building on the Avon sideline. Junior Ross McDonald took an option pitch for 29 yards. However, two plays later, McDonald fumbled the ball and Berlin's Zach Parsons picked it up on a bounce and ran 50 yards for the score and a 21-point lead.

On Avon's next offensive play, quarterback Andrew Livingstone gained eight yards and had the ball stripped from him by Berlin's Zach Zulkiewicz and recovered by Geoff Dansro. Two turnovers in 24 seconds.

Ten plays later, Berlin took a 28-0 lead when QB Dan Hackett found DeLorenzo wide open in the end zone on fourth down and goal from the eight yard line with 6:02 remaining.

That was the difference in a 35-28 loss to Berlin at Muzzy Field. The Falcons scored a pair of touchdowns in the fourth quarter and had the ball on the Berlin 44 yard line with 1:30 remaining with a chance to tie the game.

Fans that remembered Avon's win over Cromwell in October with two touchdowns in the final 1:15 including a game-winning run from McDonald as time expired were hoping for another thrilling come-from-behind victory.

But Berlin's Sean Roche's diving interception with 1:17 sealed the victory for the Redcoats (9-2), who advance to Saturday's Class M championship game against Bethel.

While the turnovers hurt, the performance of Berlin junior back Max DeLorenzo was a constant ache for the Falcons. He rushed for a game-high 265 yards on 36 carries and scored three touchdowns, two on the ground and one through the air. When there was a big play to be made, he was there.

On Berlin's first drive of the game, he converted twice on fourth down – once running for five yards and one catching a 17-yard pass. When Avon gained a little momentum with their first touchdown of the game with 1:52 left in the second quarter to cut the lead to 28-7, he responded. DeLorenzo used his speed to get outside for a 67-yard touchdown run on Berlin's next play and push the lead back to 28 points.

"It was ugly," Avon coach Brett Quinion said about the first half. "I was just worried about them folding the tents, clock-watching and wanting to get back on the bus. But we fought back one play at a time, one score at a time. That's been their MO."

Unable to muster much consistent success running the ball, Avon began throwing the ball in the second half.

On a key third and 10 late in the third quarter, he completed a 17-yard pass to TylerD'Onofrio, who leaped into the air, grabbed the ball away from a Berlin defender and scampered down the sideline. McDonald scored on an eight-yard run seven plays later with 10:35 left in the game to cut the lead to 35-21.

Avon made a big stop on third down to force Berlin to punt and drove 74 yards on 11 plays to pull within seven points, 35-28, on McDonald's two-yard run with 3:57 left in the game. Livingstone completed 5-of-6 passes on the drive for 50 yards on the drive.

Berlin took over with 3:52 remaining and gained one first down. But the Falcon defense stiffened and on fourth down and two from the Berlin 43, the Redcoats took a chance. DeLorenzo was stopped for a one-yard gain thanks to a big hit from Tyler D'Onofrio.

Avon had the ball back with 1:30 remaining on the Berlin 44. Livingstone's first pass was incomplete as the officials missed a potential pass interference call. On the next play, Berlin's Sean Roche dove for the ball and intercepted it with 1:17 remaining to seal the victory for the Redcoats.

"If we made the first down the game is over," Berlin coach John Capodice said. "Worst-case scenario, if they score we go to overtime. You know, you've got to play to win. This is the playoffs and sometimes you've got to roll the dice and take a shot."

Berlin led 28-0 before Avon was able to get on the board. Vince Savarese had a 61-yard kickoff return to the Berlin 32. Savarese caught a 17-yard pass on the drive that was capped off by McDonald's one-yard run with 1:52 left.

After DeLorenzo extended the lead to 28 with his 67-yard run, Avon cut the lead again on a sharply-executed hook and ladder play. Livingstone completed a short pass to D'Onofrio, who pitched it to McDonald, who zipped down the sideline for a 66-yard touchdown with 1:23 left in the second quarter and a 35-14 halftime lead for Berlin.

"Life isn't measued by the amount of breathes that you take but by the number of moments that take your breath away and they did that today," Quinion said.

Avon rally falls short in loss to Berlin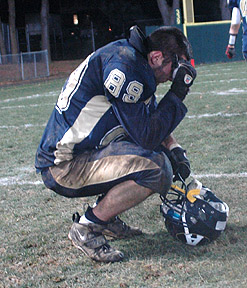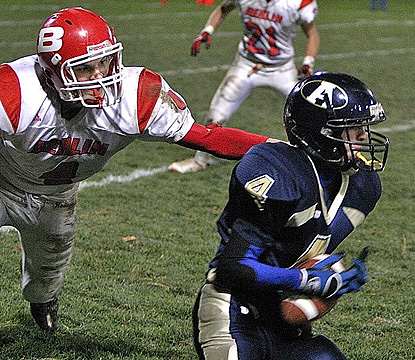 Photo by Paul Torland

Avon's Dave Doebler pulls in a pass in front of Berlin's Sean Roche in Tuesday's semifinal game at Muzzy Field.

Photos by Paul Torland

Left, Andrew Livingstone (11) leads Ross McDonald against Berlin. Right, Avon's Austin Kick (87) and Tyler D'Onofrio (12) tackle Berlin's Mason Powers in the Class M semifinals.

Falcon playoff notebook

DeLorenzo unstoppable in leading Berlin to state title

WATERBURY, Dec. 6 – It turns out that few teams could stop Berlin's Max DeLorenzo. Just five days after setting new school records for rushing yards (284) and attempts (39) in a seven-point victory over Avon in the semifinals, DeLorenzo ran for a school-record 332 yards on 44 carries and scored 4 TDs to lead Berlin to its first-ever state championship with a dominant 49-6 win over Bethel in the Class M championship game.

Only New Britain and Simsbury held the hard-running back under 100 yards this season. Berlin (10-2) dominated from the start, taking the opening kickoff 60 yards in 14 plays despite three minor penalties. DeLorenzo capped the drive with a two-yard run.

On the Redcoats' second drive, DeLorenzo carried on eight of the nine plays and scored from the 3. Bethel converted its initial first down early in the second quarter but fumbled. When Berlin's ensuing drive stalled, Devin Silverman booted a 36-yard field goal.

DeLorenzo scored his third touchdown of the first half on a 35-yard pass from Dan Hackett to give Berlin a 25-0 halftime lead. Bethel (9-3) scored its lone touchdown in the third quarter when quarterback Bill Ramirez hit Javier Reyes for a 71-yard catch and run.

SPORTSMANSHIP AWARD:  Avon was recognized with the 2009 Sportsmanship Award from the Central Connecticut Association of Football Officials (CCAFO). The Falcons were honored at the CCAFO banquet. It is given to the school, coaches and players who exemplified the best sportsmanship for the season as voted on by the officials.