This page was last updated on: November 20, 2005






Avon High varsity football

First  season 1960

Avon Football Online

Avon, Connecticut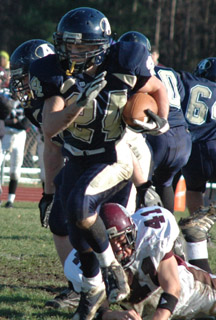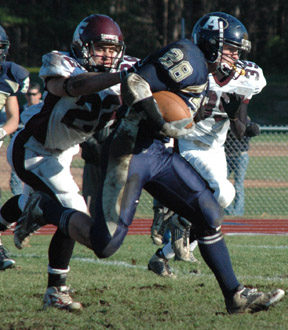 n Left, Ben Ewbank (28) gets away for a 19-yard TD in the second quarter. Right, Eric Hertenstein (24) breaks through the line on his 36-yard reverse for a TD. (Gerry deSimas, Jr.  photos)

Notebook, statistics

n They carried Avon to three straight wins to end the season. Avon's offensive line in the final three games were A.J. Mancini (center), Zach Donino (guard), Alex Battaglino (guard), Andrew St. Onge (tackle), Zach Locke (tackle), Dane Mealey (tight end) and Eric Eisenberg and Ryan Gallagher splitting the other tight end position.

n "It's amazing," Avon back Ben Ewbank said. "I'll remember this game forever."

n Only one other game in the 44-year series history was closer and that was Avon's 7-6 win in 1964.

n In the first eight games, Avon threw 16 interceptions and had numerous turnovers.

n It was the final Nutmeg League game for Avon, which will enter the Pequot Conference next fall. While both coaches want to continue the annual game, no decision has been made yet on future schedules.

n By winning the game, Avon won the Maskery/McLellan Trophy, named in honor of two long-time coaches at the schools. Paul Maskery coached Farmington from 1969-82 and has the most wins in FHS football history (70-56-2). Glenn McLellan coached at Avon from 1966-91 and 1994 compiling a mark of 130-116-2.

n A year ago, Farmington had the most one-sided win in the series' history with a 42-0 rout. "It was the most embarassing day of my life," AHS coach Brett Quinion said as his high school coach Glenn McLellan watched from the stands. "This win is very satisfying."

n It was the first losing season in six seasons under Farmington coach Jeff Bemis and the first campaign under .500 since 1994 when the Indians were 2-8.

Avon 21, Farmington 20

At Avon

Farmington (3-7)   3  0  17  0  -- 20

Avon (4-6)

  6  7    0  8  -- 21
First quarter

A: Eric Hertenstein 36 run (kick wide), 6:48

F: Ryan Dunn 16 FG, 4:15

Second quarter

A: Ben Ewbank 19 run (Mike D'Onofrio kick), 8:42

Third quarter

F: Marc Wilson 47 pass from Steve Harrington (Dunn kick), 9:56

F: Dunn 31 FG, 4:47

F: Harrington 3 run (Dunn kick), 2:17

Fourth quarter

A: Ewbank 13 run (Ewbank run), 11:55

               FHS          AHS

First Downs

17

  12
Rushing

    69

  274
Passing

    317

  0
C-Att-Int

22-44-1       0-0-0
Fum ret-yds

1-0

  0-0
Int-yds

       0-0

1-0
Pun ret-yds

1-0

  0-0
KO ret-yds

4-35

5-73
Penalties

  3-15

0-0
Sacks-yds

   0-0

0-0
3rd down con       3-9

5-11
4th down con       1-3

3-3
Individual statistics

RUSHING: Avon – Eric Hertenstein 7-95, John Rowley 25-73, Ben Ewbank 19-106; Farmington – Steve Harrington 13-45, Matt Robinson 3-8, Mike Peltier 1-0, Chris Mitchell 1-1, Orlando Ortiz 2-8, Marc Wilson 1-7

PASSING: Farmington – Steve Harrington 22-41-1, 317; Avon – no passes attempted

RECEIVING: Farmington – Domingo Astiasaran 4-60, R.J. Simeone 6-73, Ray Marci 3-16, Marc Wilson 6-106, Orlando Ortiz 1-12, Matt Robinson 2-49

MISSED FIELD GOALS: Dunn (F) 27

KICKOFF RETURNS: Avon – Hertenstein 2-41, Ryan Gallagher 1-0, Preston Anderson 2-32; Farmington – Lou Tribuzio 1-14, Marc Wilson 2-7, R.J. Simeone 1-14

PUNT RETURNS – Simeone (F) 1-0

PUNTS: Anderson (A) 3-90

INTERCEPTIONS: Hertenstein (A) 1-0

By GERRY deSIMAS, JR.

Avon Football Online

AVON, Nov. 19, 2005 – Two days before Halloween, the performance of the Avon High football was scary enough for head coach Brett Quinion to make a change. In a 51-point loss to Northwest Catholic, the Falcons turned the ball over eight times (5 interceptions, 3 fumbles) to fall to 1-6.

"I told our coaches that I would ran win and lose by running the ball," he said. "We have a pretty good offensive line and two good running backs. So we made the commitment."

By keeping and moving the ball on the ground, Avon kept Farmington quarterback Steve Harrington off the field just long enough to escape with a thrilling 21-20 victory Saturday in the season finale for both schools. The Falcon defense bent but didn't break, forcing Farmington to attempt three field goals.

Harrington was 22-of-41 for 317 yards – all career-highs and probably single-game school records. But he threw an interception in the end zone and had several receivers drop passes, including one in the end zone.

Avon (4-6, 4-5 Nutmeg) led 13-3 at halftime thanks to a 36-yard touchdown run by Eric Hertenstein on a reverse and a 19-yard scamper by Ben Ewbank, who broke two tackles on the run.

Moving the ball on the ground led Avon to its third straight win and a victory over Farmington for the second time in three years. Avon didn't attempt a pass Saturday and had only 10 pass attempts in its last three games.

"We were struggling with a conventional QB," Quinion said. "So we made the commitment to direct snap (to either Ewbank or John Rowley). What it does is give us an extra tight end so we can spread the front and look for bubbles in the defense."

Ewbank ran for 106 yards on 19 carries while Rowley got 73 yards on 25 carries to go over 1,000 yards for the season. Hertenstein had a career-high 95 yards on 7 carries.

In wins over RHAM and Enfield, Avon rushed for over 300 yards in both games.

"They know you're going to run. We know we're going to run," Ewbank said. "So you have to go harder than they do and that's what we did."

Still, Farmington (3-7, 3-6 Nutmeg) made a game of it, rallying for 17 points in the third quarter to take a 20-13 lead.

"We executed and we made smarter decisions in the second half," Farmington coach Jeff Bemis said. "In the first half, we didn't make very good decisions on the field that that was hurt us and stopped us from driving in and scoring."

Farmington scored quickly on its first drive of the second half with Marc Wilson (6-106) catching a short 10-yard pass and bouncing off two Avon defenders for a 47-yard touchdown run. Ryan Dunn added the extra point to trim the lead to three, 13-10.

After Avon had to punt for the first time in the game, Farmington and Harrington looked sharp, marching 66 yards on nine plays. Harrington found a wide-open Orlando Ortiz for 12 yards on third and-8 to keep the drive alive. Dunn's 31-yard field goal tied the game, 13-13, with 4:47 left in the third period.

Two plays later, Avon fumbled the ball away.

In less than two minutes, the Indians marched 56 yards to score. Harrington completed a nice 14-yard pass to R.J. Simeone (6-73) in the open and a key 33-yard pass to Matt Robinson on third down that took the ball to the Avon two. Harrington scored two plays later for a 20-13 lead with 2:19 left in the third.

But Avon responded immediately as Hertenstein got around the corner and rambled 38 yards to the Farmington 36. Five plays later, Ewbank ran up the middle on third-and-4 with a 14-yard touchdown run.

On a key two-point conversion, Ewbank found a hole on the left side and powered into the end zone to give Avon a 21-20 lead.

Farmington controlled the ball for the next 5:21 but ended with nothing to show for it. Facing fourth-and-6 from the Avon 26 with 7:47 to go, Harrington completed a 10-yard pass to Wilson for a first down.

Two plays later, a Indian receiver had a Harrington pass bounce off his chest in the end zone and fall incomplete. On the next play, Harrington dropped the snap from center and had to scramble. His three-yard run to the Avon 11 left Farmington five yards shy of the first down. Dunn's 27-yard field goal attempt with 6:28 wasn't long enough.

Avon gained just 20 yards but making two first downs enabled them to chew up nearly five minutes and Farmington got the ball back with 1:28 left. But the Indians weren't able to complete another pass.

"Our guy didn't quit and give up," Bemis said. "We were close. A few more completed passes and we're more than in this game."

Ground control sparks Avon to thrilling win over Farmington